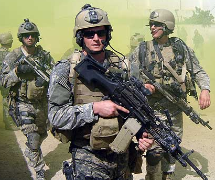 The
United States Navy SEALs
are some
bad-ass dudes!
What they go through in a week - most of us
won't experience in a lifetime!
We owe them for so many things and the fact is... we
don't even know
most things they do due to the secrecy of their missions. Well, I don't have the inside scoop on Navy SEAL missions but I can tell you the
physical requirements to become a Navy SEAL
.
And it's tough as hell!
Download this
FAT
300 page PDF and see if you have what it takes to be one of the elite Navy SEALs. Download
U.S.Navy SEAL Fitness Guide right here >>>
(Have patience! Due to the size of this download it may take a minute.)
IMPORTANT:
Hats off to our Navy SEALs and all the men and women in our armed forces.
We thank you for keeping us safe!
Have you seen this...
"The Top 5 Reasons Why Most People Can't Lose That Last 10-20 lbs Of Ugly Belly Fat…!

"
Click here >>>