What I know About Real Estate Investing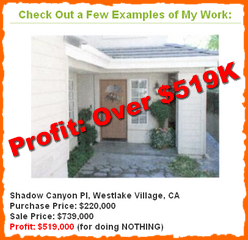 It's no secret that a huge amount of millionaires got that way by investing in real estate!
What about you? Do you have what it takes to become a real estate mogul?
Well, you need to start somewhere and this free download – 'Real Estate Investing – Everything You Need To Know!' is a great way to learn the rules.
Here's a a list of chapters in this exciting download report:
Is Real Estate For You?

Why People Invest In Real Estate

Using Real Estate Investments As Passive Or Residual Income

Why Real Estate Investing Continues To Have A Market

Profiting With Real Estate Investments

How To Avoid Potential Investment Dangers

Real Estate Investing: Full-Time Or Part Time?

Hiring A Inspector

Mortgages For Real Estate Investments

Can You Be A Landlord?

Screening Prospective Tenants For Your Rental Property

Calculating Monthly Rent

Having Repairs Done

Buying A Property That Will Generate Positive Cash Flow

Other Tips About Real Estate Investing

Resources
Download 'Real Estate Investing – Everything You Need To Know!' right here >>>