Judge Judy Welfare Video Removed By CBS?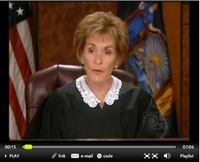 Honestly, I don't know if the rumor is true or not whether CBS yanked this Judge Judy video off the air?
Truth is, it really doesn't matter.
Watch this humorous but depressing video as Judge Judy speaks out on where our tax dollars go in this case of Duane Brooks, Jr. Mr. Brooks is being accused (rightfully) of scamming the government with all of his stipends, subsidies and assistance – and using none of it for what it was intended for.
Watch this sad video now…
Trash the brain poison now! Free Audio Hypnosis Training Course here >>>
QR Code - Take this post Mobile!
Related posts: