How To Be A Mystery Shopper!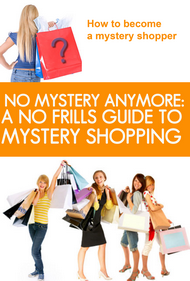 Shopping: it's become a sort of national, even global pastime. While we might do other things between the beginning and end of our days, at some point, we will need to shop and to buy something for our busy lives.
Whether it's food, clothing, or entertainment items, we need to buy things in order to complete tasks and take care of our selves and our families.Businesses know that in order for them to stay in business, they need to know they're doing the right things for their customers. While they might try to monitor their employees, the truth is that it's impossible to watch every employee all the time.
Mystery shopping isn't a new practice – not by a long shot. This profession began in the 1940s and was used primarily by banks and retail stores.
These mystery shoppers would assess the integrity of the workers in these locations.
Download A No Frills Guide to Mystery Shopping >>>
QR Code - Take this post Mobile!
Related posts: